January 12, 2015 4:47 pm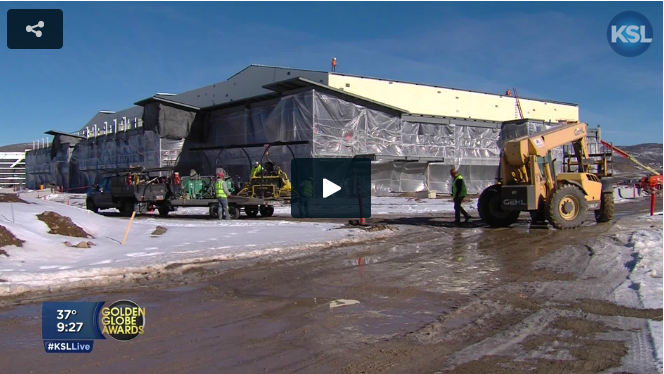 Wimmer, Nadine. "New film studio nearly complete in Park City." KSL.COM. KSL Broadcasting, 12 January 2015.
---
PARK CITY — The future of moviemaking has taken shape just off US 40 near the Park City/Kamas exit with the Park City Film Studios.
The 134,000-square-foot project will house a digital movie studio and special-effects stages. The studio is nearing completion, and the owners believe the state-of-the-art facility will not only bring jobs to Utah, but become a game-changer.
"You can shoot anything in here that anybody would want to go to Hollywood to shoot," said co-owner Greg Ericksen.
For him, it is all a dream come true.
"We have an incredible group of talent in Utah," he said. "It is time that they should have a place that they can use their craft to tell their stories and get them out to the world." Filmmakers and producers already have started lining up to use the facilities and new virtual technology.
"That equipment can save about 80 percent of the cost of a film because it is all rendered virtually," Ericksen said.
"We've got about $2 million worth of prevision equipment over at Utah Valley University, who is a technology partner," Ericksen said.
The studios will also speed up distribution, he said.
"We are in a new world as far as production and getting it distributed to the masses," Ericksen said. "We are bringing high-speed technology that will allow us to film content here and then immediately transmit anywhere in the world through fiber optics." The studio isn't just for Hollywood purposes; it also has international interests. "We had the largest theater owner in China right now call me up and visit me during the holidays because he was in the United States and he wanted to see this facility," Ericksen said.
The site, designed to support all stages of moviemaking, will also include restaurants, retail shops and a hotel. The project has attracted controversy, however. Residents have expressed concern about the added congestion the development could bring to the resort community. Ericksen expects the film studios to bring more industry, jobs and dollars to Utah. "We are putting our neck out a long way here, spending a lot of money, and we wouldn't be doing it if we didn't think it could work," he said.
He also said Park City could end up with its own Hollywood Hills: "It's going to be a cool, vibrant place," Ericksen predicted.
The studio will begin filming a movie using motion-capture technology later in January.
Studio A will open for tours during the Sundance Film Festival.